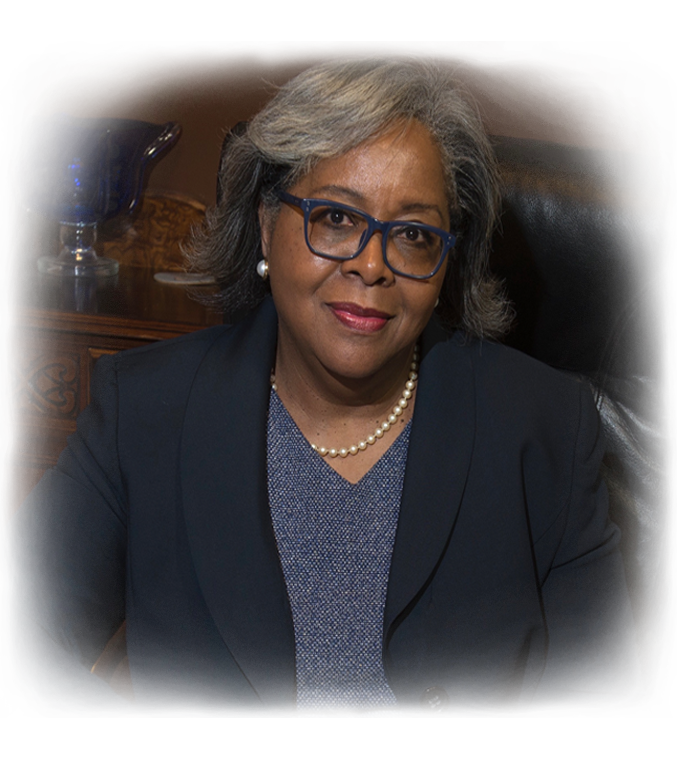 Gwendolyn Fortson Waring, Esq
biography
Gwendolyn Fortson Waring, owner, The Waring Law Firm LLC, was born in Harlem, NY. She graduated from the Brearley School in 1973 and from Princeton University in 1977 with a BA in Political Economy, teacher certification, and certification in African American studies. After a 12 year career in retail management and merchandising, she received her Juris Doctor from Georgia State University College of Law in 1992. She served as staff attorney for the Hon. Don A. Langham from 1992-1994 in Fulton County Superior Court. Since 1994, she has practiced civil trial litigation concentrating in employment, family, and probate law in Savannah.
Mission Statement
It has been my privilege to represent and help clients since 1994 in private practice. Because I am a sole practitioner, you can be certain that each case that I accept gets my careful attention. I am admitted to all federal courts in the State of Georgia: Northern, Southern and Middle districts; as well as the Court of Appeal for the 11th Circuit. In addition I am admitted to practice in the Georgia court of Appeals the Georgia Supreme Court and the U.S. Supreme Court. I practice in the area of general civil trial litigation; with concentration in the areas of Employment discrimination, family law, and wills. I also handle personal injury cases such as car accidents and cases. I provide free consultations over the telephone.
Educational Background
*Georgia State University College of Law, J.D. (1992)                             
*Princeton University, B.A. Politics (1977), Economics, certification in African- American
Studies, certified teacher in Social Studies                                                     
*The Brearley School, New York, N. Y.
PROFESSIONAL LEGAL EXPERIENCE
*The Waring Law Firm LLC, 2010 to present
*Sole Practitioner, General Civil Litigation, Employment Discrimination Law, Family Law and Probate Law, 1994- 1995, 1996-2010.
*Referee for Tax Assessment Arbitration Appeals, 1997 to present, presiding over tax arbitration appeals.
*Partner, Sage Brown and Associates, 1995-1996, General Civil litigation, Labor Law, Criminal Law and Family Law.
*Staff Attorney, Hon. Don A. Langham, Fulton County Superior Court, 1992-1994.
*Registered Neutral, 2000-2004.
OTHER PROFESSIONAL EXPERIENCE
* Senior Merchandise Planner, RICH'S Department Store, 1986-1989
* Planner, 1986-1988
* Group Manager, 1988
* Buyer, GARFINCKEL'S, 1985-1986
* Department Manager, GARFINCKEL'S, 1981-1985
* Group Manager, DAVISON'S/MACY'S, 1979-1981
* Assistant Buyer, BLOOMINGDALES, 1977-1979
PROFESSIONAL AFFILIATIONS & ACTIVITIES
* Admitted to Georgia bar, 1992; U.S. Supreme Court; Georgia Supreme Court; U. S. District Court,
Southern District, Middle District, and Northern District; U.S. Courts of Appeals: Eleventh and Fourth Circuits Board of Governors, Eastern Circuit Post 4, October 2014 to 2016
* Supreme Court of Georgia Judicial Administrative District 1 Unauthorized Practice of Law Committee, 2000-2006 Committee on Professionalism 2011- 2017
* State Bar of Georgia Access to Justice Committee 1998-2001, 2016-2018
* State Bar of Georgia Committee to Promote Inclusion in the Profession (formerly Women and Minorities Committee) 1999-present
* Leadership Savannah Class of 2000-2002
* President, Georgia Alliance of African American Attorneys (GAAAA), 2002 to 2004; Vice President 1993, * Historian 2008 to 2016
* Vice President, Savannah chapter Georgia Association of Black Women Attorneys (GABWA) Chair, Judicial Legal Committee 1992-1994, 1997-1998, 2000 to 2012
* National Conference of Women's Bar Associations, Board of Directors 1998-to 2003
* Georgia Legal Services Board of Directors, 2002 to 2004
* Savannah Bar Association, Executive Committee 1997-98
* President, Port City Bar Association, 2000- 2004
POLITICAL EXPERIENCE/APPOINTMENTS
*Historic Review Board of Savannah, Chair 2002- 2004, Vice Chair 2001-2002
*Savannah Development and Renewal Authority (SDRA), Parliamentarian
ORGANIZATIONS
* Princeton University Class of 1977 Trustee, 2017-2022
* Vestry member, St. Michael's And All Angels church, 2016-2019
* Owens Thomas Board member, 2008-2019
* President, Metropolitan Community Organization, Inc. 2001-2016
* Telfair Museum Board of Directors, 2001-2008
* King-Tisdell Cottage Foundation Board of Directors, 2002-207
* Co-Chair, Inter-Neighborhood Council, 2004-2006
* National Alliance of Preservation Commissions Board of Directors, 2002-2008
* National Conference of Women's Bar Associations 1999-2003
* NCNW 2000-2004
* NAACP pro bono counselor 2000-2004
* Historic Savannah Foundation Board, Secretary 1997-1999, Trustee 1995-2001, 2003 to 2007 Savannah
* Runaway Home/Marshlands Foundation Trustee, 1998-2003
* Judge Advocate of the Savannah Chapter of the Navy League, 2002-2007
* St. Paul C.M.E., Trustee 1997 to 2012
* President, Jack & Jill of Savannah, Inc., 1998-1999
* Ralph M. Gilbert Civil Rights Museum founding Board member 1995
* Princeton Club of Savannah, Secretary-Treasurer 1996-1998
LECTURES
"Urgent Legal Matters in Employment Law." ICLE of GA, November 2016.
"The Lawyer's Role in Preserving Constitutional Liberty, Fostering Better Policing and Achieving National Security" Chair, State Bar of Georgia Annual Meeting, June 2016.
"Symposium on Diversity in the Profession," Chair, ICLE of GA, GABWA, PIP co-sponsors, March 2016
"Voting Rights, the Remix- Co-chair, State Bar Annual Meeting, June 2013
"Securing your Law Practice", speaker, State Bar annual meeting, June 2013
"Marriage is a civil Right" Chair, State Bar annual meeting, June 2011
"Sexual Harassment" presenter, GAWL annual luncheon 2010.
"Nuts and Bolts of Employment Law," Presenter on Sexual Harassment, Savannah 2010
"Diversity in the profession" – presenter, panelist, State Bar annual meeting, June 2010
"Social Entrepreneurship." – Moderator, seminar at Princeton University, June 2007
"An Update on federal Sentencing Guidelines and the Effect of Mandatory Sentencing on the Black Community," State Bar annual meeting June 2007
"Basic Legal Issues for Women" – presenter St. Paul CME church conference 2007
"What is the Patriot Act" GA State Bar meeting June 2003, Chair
"Sisters, United, Faithful, Bold," Ashbury United Methodist Church, 2004
"Preparing for the Future, Will you be ready?" Bartlett Middle School, 2004
"God's Work in Progress," Second St. John Baptist Church, 2003
"Employment Issues," Georgia Coalition for Domestic Violence Directors, January 2001
"Talk Right" Lecture series, King-Tisdell Cottage Foundation, Savannah, GA October, 2000
"Legal Issues Pertinent to Women in the new Millennium" Women's Conference 2000, St. Paul C.M.E., 2000.
"Plessy vs. Ferguson series" Civil Rights Museum, Savannah GA. June 2000.
"Litigating a Racial Profiling Case" GA State Bar Mid-year meeting  chair January 2001.
"Litigating a Racial Profiling Case" Ga State Bar meeting June 2000.
"Litigating the Black Farmer's Lawsuit" GA State Bar meeting Chair  June 1999.
"Employment and Personnel Issues," Conference of Executive Directors of Shelters and Non-Profits, January 1999.
"Representing Children and Schools in School Litigation" GA State Bar meeting, chair, June 1997.
"Managing Your Law Practice," GA State Bar meeting, chair , June 1996.
"Affirmative Action- Going Into the 21st Century Will It Survive?"  GA State Bar  meeting, Chair, June 1995.
"Sentencing Issues," National Black Prosecutors' Convention seminar Atlanta, GA. July 1994.
"Crack Cocaine Sentencing Guidelines," GA State Bar meeting, June 1994.
"The Brooks Litigation," GA State Bar Meeting, Chair  June 1993.
honors
*Lawyers Foundation of Georgia Fellow
*Bleckley Inn of Court 1991-1992
*International Law Moot Court Team Jessup Competition Spring 1991
*Honorary A.E. Beach Alumni 2004
AWARDS
*Georgia Association of Black Women Attorneys (GABWA) "Spirit of GABWA" award  for public service
*United Negro College Fund Distinguished Service Award
*Georgia State University Graduate Student Life Committee Award for Outstanding Contribution and Leadership
*The Pro Bono Project recognition for outstanding public service in providing legal representation to the low income citizens of Georgia.
*A.E. Beach High Alumni Leroy R. Bolden Award for Outstanding Civil and Community Activism